Coding, creativity and communication win the day at CEDoW VEX Robotics Final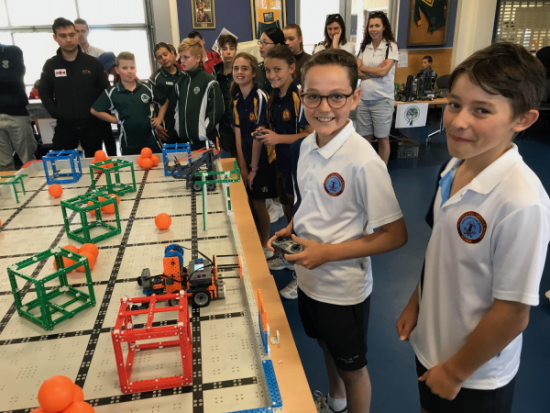 Ss Peter and Paul has hosted over 50 students from six local Catholic schools have put their innovative engineering, problem-solving and teamwork skills to the test, competing in the inaugural Diocesan VEX Robotics Final.
The event, proudly hosted by the seaside at our school, builds on previous CEDoW VEX Robotics Scrimmage Days, which give students from Years 3 to 8 engaging, hands-on opportunities to explore, build and program VEX robots, as well as develop an interest in Science, Technology, Engineering and Mathematics (STEM) subjects.
The Final was CEDoW's first official Wollongong Region Qualifying Tournament, with 15 primary school teams from St Paul's Moss Vale, St Therese West Wollongong, Ss Peter and Paul Kiama, St Clare's Narellan Vale and St Paul's Albion Park (plus three from St Paul's International College in the Middle School division) showcasing their skills and battling it out for top honours and an invitation to this year's VEX Nationals Competition in Adelaide in December.
VEX robotics is an international platform that takes students beyond basic robotics coding. It involves a snap-together robotics system using motors, gears, modular construction pieces, sensors and many more add-ons – accessible to a range of skill levels and useful for exposing students to STEM fundamentals.
CEDoW Learning Technologies Officer and VEX event partner, Ben Woods, said the VEX robotics days encourage the students' creativity and skills development in a fun, competitive context. They become innovators and engineers as well as coders, collaboratively working together to build and redesign their robots to come up with the best solution for each challenge.
"VEX robotics is STEM education at its best, and it's taking off in the diocese, with seven schools currently competing and at least another four looking to participate in 2020. The program is really something special, and students are loving it. They are super engaged and learning future skills that will provide them with a great foundation to succeed in life – skills in teamwork, leadership, communication and problem-solving" — Ben Woods, CEDoW Learning Technologies Officer
"With VEX, students are engaged in the engineering and design of their robots, coding components to perform the best they can and scoring the highest amount of points in 60-second rounds. Students work collaboratively within their teams in the lead up to the event and build alliances with other teams on the day to progress their skills," Mr Woods said.
"The growth of the students in VEX this year has been impressive, with most schools starting with little to no knowledge of coding and robotics, to now being invited to participate in a national competition – it's really exciting."
The students worked on two competitions during the Final – a Teamwork Challenge and Driver Skills Challenge – and loved the experience of coding, collaborating and competing to achieve the best solutions with their VEX robots.
What the students said:
"I think VEX is a fantastic opportunity because it helps develop social skills, cooperation and problem-solving. It is enjoyable and something that kids of all ages can enjoy" — Regan, St Therese West Wollongong
"The Final was a great learning day and lots of fun! We definitely want to do more. It's a great team experience and working out strategies with our alliance partners was really fun" — Spencer, St Paul's Moss Vale
"I think VEX is a great way to learn how to work as part of a team using each other's strengths. I think it is also a way to learn to problem solve. Everyone should have the opportunity to experience VEX at least once" — Kaity, St Therese West Wollongong
"We learned from listening to others on the day. They offered some good advice about pinions and we will be researching and experimenting with this concept" — Finley, St Paul's Moss Vale
"I enjoy VEX because you get to make new friends from other schools. The Final was challenging and fun" — Dylan, St Therese West Wollongong
"We were excited to see how far we had come in our learning. It has made us want to improve even more" — Lilian, St Paul's Moss Vale
St Therese West Wollongong Year 6 teacher and STEM Coordinator at the school, Michelle Devine, said the VEX Final Day was a "huge success", showing how hard all the teams had worked since the last CEDoW VEX Scrimmage event to better their design and driver skills.
"Throughout the day there was a great spirit of fun, encouragement and cooperation. The growth in the students as problem-solvers and engineers was outstanding. The inter-school cooperation is also a real feature of VEX and allows the children to learn from the experiences of others as well as building collegiality" — Michelle Devine, STEM Coordinator, St Therese West Wollongong
St Clare's Narellan Vale teacher, Leonie Ryan, agreed. "It was such a great experience for the students. They had so much fun and learned lifelong skills," she said.
---
CEDoW thanks Learning Technologies Officers, Ben Woods and Mark Woolley, for organising and supporting this event; Ss Peter and Paul's Kiama for hosting, and the organising teachers from our schools for facilitating their robotics teams – including Ss Peter and Paul teacher, Ashley Rae.